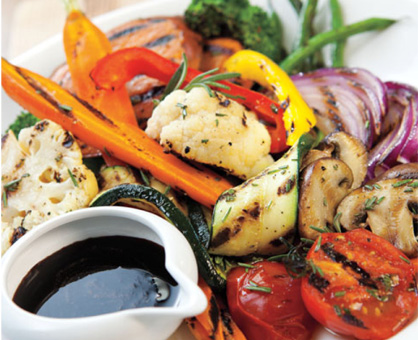 Grilled Vegetables with Balsamic Glaze
Prep: 20 minutes
Grill: 7 minutes • Serves: 8
Balsamic Glaze
2 garlic cloves, crushed with press
1/4 cup balsamic vinegar
1/4 cup Essential Everyday® honey
1 tablespoon Worcestershire sauce
1/8 teaspoon salt
1-1/2 teaspoons cornstarch
1-1/2 teaspoons water

Grilled Vegetables
4 pounds fresh vegetables: cauliflower and/or broccoli florets, green beans, halved bell peppers, halved carrots, halved tomatoes, mushrooms, sliced red onion, sliced sweet potatoes and/or sliced zucchini and/or yellow squash
1/4 cup Essential Everyday® olive oil
1 tablespoon chopped fresh rosemary leaves

1. Prepare outdoor grill for direct grilling over medium heat.

2. Prepare Balsamic Glaze: In small saucepot, whisk together garlic, vinegar, honey, Worcestershire and salt. Cook over medium heat 2 minutes or until mixture simmers. In small bowl, whisk together cornstarch and water; add to balsamic mixture and heat to boiling, stirring constantly with whisk. Remove from heat.

3. Prepare Grilled Vegetables: In large bowl, toss vegetables with oil. Place vegetables on hot grill rack and cook 7 to 10 minutes or until tender, turning vegetables once halfway through cooking.

4. To serve, transfer vegetables to serving platter. Sprinkle with rosemary and serve with Balsamic Glaze.

Approximate nutritional values per serving:
186 Calories, 7g Fat (1g Saturated), 0mg Cholesterol,
118mg Sodium, 29g Carbohydrates, 5g Fiber, 4g Protein