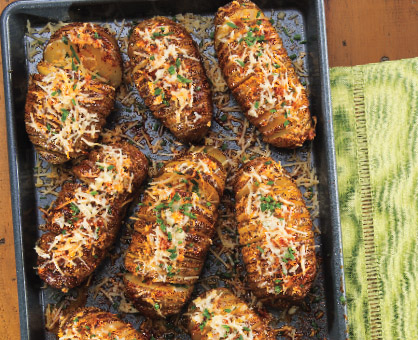 Cheesy Potato Fans

Prep: 20 minutes
Bake/Broil: 1 hour 5 minutes • Serves: 8
Essential Everyday cooking spray
8 medium potatoes (about 8 ounces each)
1/2 cup Essential Everyday olive oil
1-1/2 teaspoons salt
1 teaspoon McCormick® ground black pepper
1/2 cup Essential Everyday unsalted butter (1 stick), softened
1/4 cup plus 2 tablespoons minced garlic
1 cup shredded Gruyère or Swiss cheese
1 cup Dutch Farms® shredded Parmesan cheese
2 teaspoons McCormick® paprika
1/2 cup chopped chives

1. Preheat oven 350°. Spray rimmed baking pan with cooking spray. Cut crosswise slices, about 1/4- to 1/2-inch apart, into each potato, cutting only 3/4 of the way through potatoes. Rinse potatoes under cold water.

2. Place potatoes, cut side up, on prepared pan; brush cut sides of potatoes with oil and sprinkle with salt and pepper. Bake potatoes 1 hour.

3. Preheat broiler. Evenly spread potatoes with butter, and sprinkle with garlic, cheeses and paprika; broil 5 minutes or until cheeses melt. Serve potatoes topped with chives.

Approximate nutritional values per serving:
498 Calories, 31g Fat (14g Saturated), 52mg Cholesterol,
664mg Sodium, 42g Carbohydrates, 3g Fiber, 13g Protein