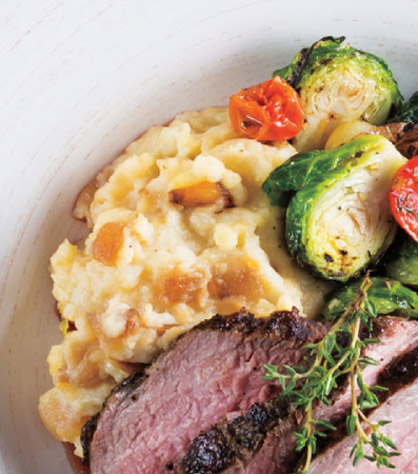 Caramelized Onion & Gruyère Mashed Potatoes
Prep: 10 minutes
Cook: 20 minutes • Serves: 8
5 medium Russet potatoes, peeled and cut into large chunks (about 5 cups)
1 large onion, chopped
2 tablespoons Essential Everyday® olive oil
1 cup grated Gruyère cheese
1/2 cup County Market® milk, warmed
4 tablespoons Essential Everyday® butter, cut into pieces
2 teaspoons salt
1/4 teaspoon white pepper
1 pinch nutmeg

1. Heat large covered saucepot of salted cold water and potatoes to boiling over high heat. Reduce heat to low; simmer, uncovered, 20 minutes or just until potatoes are tender.

2. Meanwhile, heat medium saucepot over medium-high heat until hot; add onion and oil and cook 5 minutes, stirring occasionally. Reduce heat to medium-low; cook 15 to 18 minutes longer or until onion is browned.

3. Drain potatoes; transfer to large bowl. Add cheese, milk, butter, salt, pepper and nutmeg. With mixer on medium-high speed, mix potatoes 2 to 3 minutes until smooth; stir in onion.

Approximate nutritional values per serving:
417 Calories, 19g Fat (11g Saturated), 97mg Cholesterol,
635mg Sodium, 44g Carbohydrates, 1g Fiber, 11g Protein