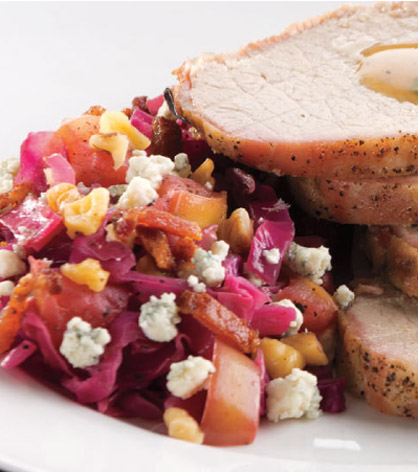 Braised Red Cabbage and Apples with Bacon, Blue Cheese & Walnuts
Prep: 35 minutes
Roast: 55 minutes • Serves: 8
1 large head red cabbage, quartered, cored
and thinly sliced (about 14 cups)
6 slices bacon, cut crosswise into 1/4-inch pieces
2 medium Golden Delicious or Granny Smith apples,
cored and chopped (about 3 cups)
1 bay leaf
1-1/2 cups apple cider or apple juice
1 tablespoon Essential Everyday® sugar
1/2 teaspoon salt
1/2 teaspoon ground black pepper
3 tablespoons red wine vinegar
1 container (5 ounces) crumbled blue cheese (about 1 cup)
1/4 cup Essential Everyday® chopped walnuts
1. Preheat oven to 325°. Heat large covered saucepot of water to boiling over high heat. Add 1/2 of the cabbage; cook 3 minutes. With slotted spoon, immediately transfer cabbage to large bowl. Repeat process, returning water to boiling before adding remaining cabbage.

2. Heat medium roasting pan or Dutch oven over medium-high heat. Add bacon and cook 8 minutes or until crisp, stirring frequently. Transfer to paper towel-lined plate to drain. Discard all but 1 tablespoon bacon fat.

3. Add apples, bay leaf, cider, sugar, salt, pepper and cabbage to pan; cover tightly with lid or foil. Roast 55 minutes or until cabbage is tender, stirring every 15 minutes. Remove bay leaf; stir in vinegar.

4. With slotted spoon, transfer cabbage mixture to serving bowl. Sprinkle with cheese, walnuts and bacon to serve.

Approximate nutritional values per serving:
211 Calories, 9g Fat (4g Saturated), 19mg Cholesterol,
579mg Sodium, 24g Carbohydrates, 4g Fiber, 9g Protein