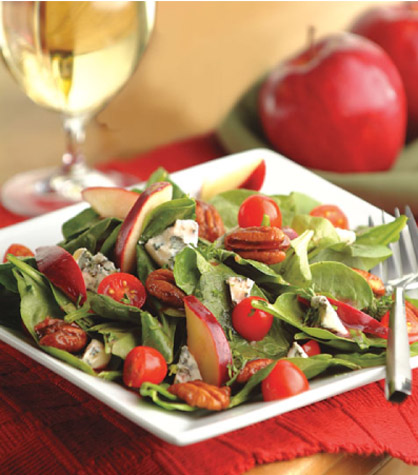 Spinach & Apple Salad with Raspberry Vinaigrette
Prep: 15 minutes
Cook: 5 minutes • Serves: 4
Candied Pecans
1 cup Essential Everyday® pecan halves
1 teaspoon Essential Everyday® canola oil
1/4 cup Essential Everyday® brown sugar
1/4 teaspoon salt
1 pinch cayenne pepper

Raspberry Vinaigrette
2 garlic cloves, minced
1 medium shallot, minced
1 cup Essential Everyday® extra virgin olive oil
1/2 cup raspberry vinegar
1/4 cup chopped fresh parsley
1 tablespoon Dijon mustard
4 teaspoons Essential Everyday® granulated sugar
2 teaspoons Worcestershire sauce
1/4 teaspoon ground black pepper

Spinach & Apple Salad
1 teaspoon fresh lemon juice
1 large Red Delicious or Granny Smith apple
1 bag (5 ounces) Wild Harvest® baby spinach leaves
12 grape tomatoes, each cut in half
3 ounces crumbled Gorgonzola cheese

1. Prepare Candied Pecans: In large nonstick skillet, combine all ingredients and cook over medium-high heat 5 minutes, stirring occasionally. Transfer pecan mixture to rimmed baking pan to cool completely.

2. Meanwhile, prepare Raspberry Vinaigrette: In medium bowl, whisk together all ingredients. Refrigerate until ready to serve.

3. Prepare Spinach & Apple Salad: Place lemon juice in large bowl. Core and cut apple into 1/4-inch-thick slices and add to lemon juice; toss to prevent browning. Add spinach, tomatoes, cheese and 1/2 cup vinaigrette; toss to combine. Serve salad topped with candied pecans.

Approximate nutritional values per serving:
466 Calories, 40g Fat (8g Saturated), 19mg Cholesterol,
477mg Sodium, 25g Carbohydrates, 6g Fiber, 9g Protein