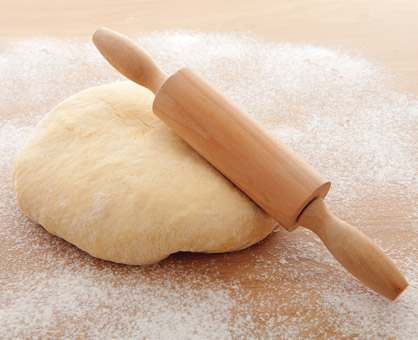 Whole Wheat Pizza Crust Dough
Prep: 15 minutes plus standing
Makes: 1 (12 x 16-inch) pizza crust
2 cups whole wheat flour
1 cup County Market® all-purpose flour plus additional for dusting
1/2 teaspoon salt
1 envelope (1/4 ounce) rapid rise highly active dry yeast
1-1/4 cups warm water (110-115°)
1 tablespoon Essential Everyday® honey
1 tablespoon Essential Everyday® olive oil
1. In large bowl, whisk together flours, salt and yeast. With wooden spoon, stir in water, honey and oil until dough begins to come together. With hands, knead dough in bowl 1 to 2 minutes or until dough is gathered into a ball; dough will feel sticky. Cover bowl tightly with plastic wrap and let stand in warm place 45 minutes or until dough doubles in size.

2. Flour work surface. Transfer dough to work surface; cover loosely with plastic wrap and let stand 5 minutes. (This allows the dough to relax, making it easier to roll out.) Flour top of dough and rolling pin. Roll dough into 12 x 16-inch rectangle.

Chef Tip
Dough can also be divided in half and rolled into two 12-inch rounds.