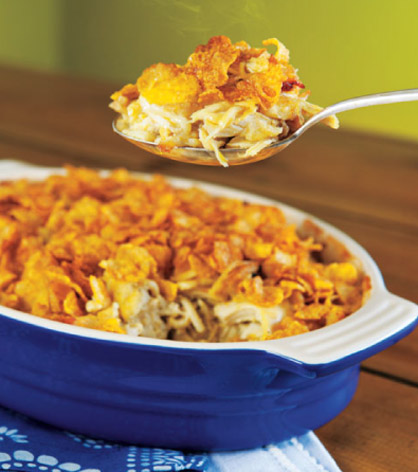 Turkey Noodle Bake
Prep: 25 minutes
Bake: 40 minutes • Serves: 8
Essential Everyday® nonstick cooking spray
1/2 medium onion, finely chopped (about 1/2 cup)
2 teaspoons Essential Everyday® vegetable oil
1/2 teaspoon ground white pepper
4 tablespoons Essential Everyday® unsalted butter
1-1/2 cups Essential Everyday® cornflakes
2 County Market® large eggs
2 cans (10.75 ounces each) Essential Everyday® 25% less sodium chicken noodle soup
1 can (10.75 ounces) cream of onion or cream of mushroom with garlic soup
1-1/2 tablespoons Dijon mustard
6 slices County Market® Fresh Baked Bakery Sourdough or white bread, cut into 3/4-inch cubes (about 6 cups)
4 cups shredded leftover or cooked turkey

1. Preheat oven to 375°. Spray 13 x 9-inch baking dish with nonstick cooking spray.

2. Meanwhile, in large skillet, cook onion in oil over medium heat 5 to 6 minutes or until tender, stirring occasionally; stir in pepper.

3. In medium microwave-safe bowl, heat butter in microwave oven on high 25 seconds or until melted. Add cornflakes; stir until well combined.

4. In large bowl, beat eggs. Stir in soups and mustard until well combined. Fold in bread, turkey and onion. Transfer mixture to prepared dish; evenly sprinkle with cornflake mixture. Bake 40 to 45 minutes or until top is golden brown.

Approximate nutritional values per serving:
255 Calories, 11g Fat (5g Saturated), 86mg Cholesterol,
626mg Sodium, 18g Carbohydrates, 2g Fiber, 18g Protein

Chef Tip
Make this dish your own by adding frozen peas, sautéed sliced mushrooms or chopped broccoli, or chopped fresh herbs.