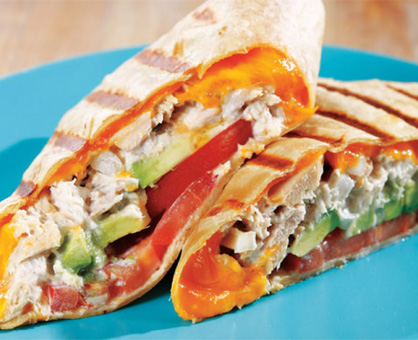 Grilled Tuna Melt Wrap
Prep: 15 minutes
Cook: 6 minutes • Serves: 4
1/4 cup Hellmann's® mayonnaise
2 tablespoons Essential Everyday® Greek plain yogurt
1 tablespoon fresh lemon juice
1/2 teaspoon salt
1/4 teaspoon ground black pepper
2 cans (5 ounces each) solid white albacore tuna in water, drained
1/4 cup finely chopped onion
2 tablespoons finely chopped Essential Everyday® dill pickles
4 (8- to 10-inch) Carlita® flour tortillas or sandwich wraps
4 slices sharp Cheddar cheese, cut in half
8 slices tomato
3/4 small ripe avocado, cut into 12 slices
Essential Everyday® cooking spray

1. In small bowl, whisk together mayonnaise, yogurt, lemon juice, salt and pepper. In medium bowl, flake tuna with fork; fold in onion, pickles and mayonnaise mixture. Makes about 2 cups.

2. Place tortillas on work surface. Leaving about 1-1/2-inches on sides of each tortilla, place 2 pieces cheese lengthwise in center of each tortilla; evenly divide tuna mixture, tomatoes and avocado over cheese. Fold sides of tortilla over fillings, then roll from bottom up to enclose filling.

3. Preheat grill pan over medium heat. Spray both sides of sandwiches with nonstick cooking spray; place on hot grill pan. Cook sandwiches 6 to 8 minutes or until grill marks appear and sandwiches are heated through, turning once halfway through cooking. Cut diagonally in half to serve.

Approximate nutritional values per serving:
464 Calories, 31g Fat (18g Saturated), 57mg Cholesterol,
1144mg Sodium, 34g Carbohydrates, 6g Fiber, 28g Protein