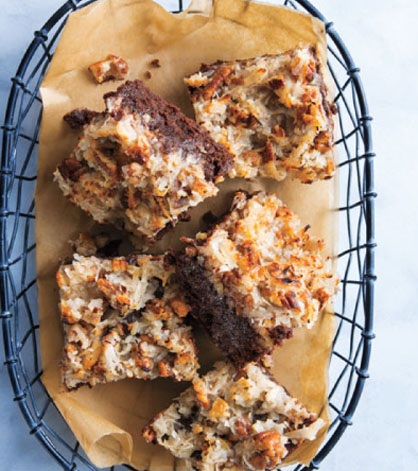 German Chocolate Brownies
Prep: 30 minutes plus cooling
Bake/Broil: 35 minutes • Makes: 15 brownies
Brownies
Essential Everyday® baking spray
1-1/2 cups Essential Everyday® all-purpose flour
3/4 cup unsweetened cocoa powder
1 teaspoon baking powder
1 teaspoon salt
1 cup Essential Everyday® unsalted butter (2 sticks), cubed
1-1/2 cups Essential Everyday® semi-sweet chocolate chips (9 ounces)
4 County Market® large eggs
2 cups Essential Everyday® granulated sugar
1 teaspoon vanilla extract

Coconut Topping
3 tablespoons unsalted butter, melted
1-1/2 cups sweetened coconut flakes
3/4 cup Essential Everyday® chopped pecans
3/4 cup packed Essential Everyday® light brown sugar
3 tablespoons light corn syrup
3 tablespoons whole milk or half & half

1. Prepare Brownies: Preheat oven to 350°. Spray 13 x 9-inch glass or ceramic baking dish with baking spray. In medium bowl, whisk together flour, cocoa powder, baking powder and salt.

2. In medium saucepot, cook butter over medium-low heat 3 minutes or until it begins to bubble; stir in chocolate. Remove saucepot from heat and stir until chocolate mixture is smooth; cool 5 minutes.

3. In large bowl, with mixer on low speed, beat eggs and sugar; slowly add vanilla and chocolate mixture. Gradually beat in flour mixture until well incorporated, scraping sides of bowl occasionally with rubber spatula.

4. Pour batter into prepared pan. Bake 30 to 35 minutes or until toothpick inserted near the center comes out clean and brownie pulls away slightly from the sides. Cool 5 minutes on wire rack.

5. Meanwhile, prepare Coconut Topping: Adjust oven rack to about 8 inches from source of heat; preheat broiler. In medium microwave-safe bowl, cook butter on high 25 seconds or until melted; add remaining ingredients and stir until well combined. With spatula or butter knife, evenly spread coconut mixture over brownie.

6. Broil 4 to 6 minutes or until top is browned and bubbly. Cool in pan on wire rack at least 2 hours before cutting. Cut lengthwise into 3 strips, then crosswise into 5 strips.

Approximate nutritional values per serving:
546 Calories, 29g Fat (17g Saturated), 88mg Cholesterol,
242mg Sodium, 71g Carbohydrates, 4g Fiber, 6g Protein