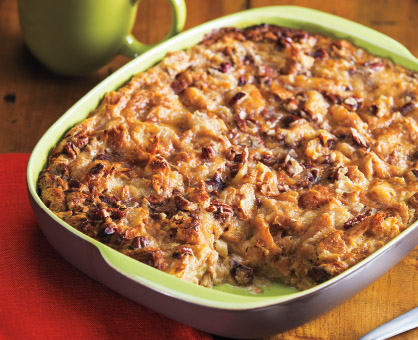 Croissant Bread Pudding

Prep: 20 minutes plus standing
Bake: 15 minutes • Serves: 12
Essential Everyday cooking spray
6 County Market croissants (preferably day-old), torn into 1½-inch pieces
1/2 cup chopped pecans
6 County Market large eggs
1/4 cup plus 2 tablespoons bourbon whiskey
1-1/2 teaspoons McCormick® ground cinnamon
1-1/2 teaspoons McCormick® vanilla extract
1-1/2 cups County Market granulated sugar
6 tablespoons water
3 cups half and half

1. Preheat oven to 350°. Spray 11 x 9-inch glass or ceramic baking dish with cooking spray. Evenly spread croissant pieces and pecans in prepared dish.

2. In small bowl, whisk eggs; stir in whiskey, cinnamon and vanilla extract.

3. In small saucepot, cook sugar and water over medium-high heat 10 to 12 minutes or until amber colored, gently whisking frequently; do not leave unattended. Remove saucepot from heat; carefully whisk in egg mixture and half and half, immediately pour caramel over croissants and let stand 10 minutes.

4. Bake bread pudding 15 to 20 minutes or until top is golden brown and center is set. Let stand 10 minutes before serving.

Approximate nutritional values per serving:
379 Calories, 17g Fat (9g Saturated), 134mg Cholesterol,
159mg Sodium, 42g Carbohydrates, 1g Fiber, 8g Protein