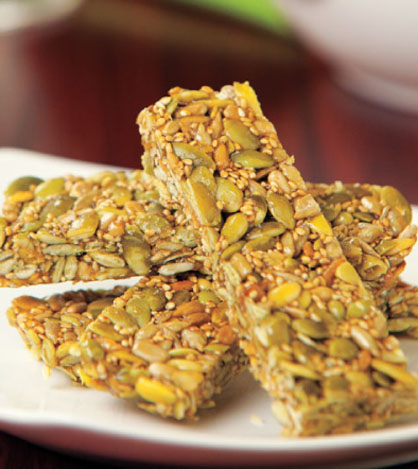 3-Seed Honey Bars
Prep: 15 minutes plus cooling and chilling
Cook: 12 minutes • Makes: 16 bars
Wild Harvest® gluten-free cooking spray
1/3 cup sesame seeds
1/3 cup Wild Harvest® honey
1/3 cup packed Wild Harvest® light brown sugar
1 cup roasted, salted shelled pumpkin seeds
1/3 cup roasted, salted shelled sunflower seeds

1. Spray 8 x 8-inch glass or metal baking pan with cooking spray. Line baking pan with parchment paper or nonstick aluminum foil so that paper or foil extends about 2 inches over opposite sides of pan.

2. In large nonstick skillet, cook sesame seeds over medium-low heat 8 to 10 minutes or until lightly toasted, stirring occasionally to prevent burning. Transfer sesame seeds to plate.

3. In medium saucepan, stir together honey and sugar. Cook over medium-low heat 4 to 5 minutes or until mixture simmers and sugar is dissolved, stirring occasionally with rubber spatula. Remove saucepan from heat; stir in seeds. With rubber spatula, immediately spread seed mixture evenly in prepared pan. Cool 1 hour at room temperature.

4. Using overhanging sides of paper or foil, lift seed mixture out of pan and invert onto cutting board. Remove parchment paper or foil, and cut into 1 x 4-inch bars. Line rimmed baking pan with parchment paper or nonstick aluminum foil. Place bars in single layer on prepared baking pan. Cover with plastic wrap and refrigerate at least 2 hours or up to 3 days.

Approximate nutritional values per serving (1 bar):
108 Calories, 5g Fat (1g Saturated), 0mg Cholesterol,
73mg Sodium, 12g Carbohydrates, 1g Fiber, 4g Protein

Chef Tip
To transport bars, wrap in parchment paper or nonstick aluminum foil.