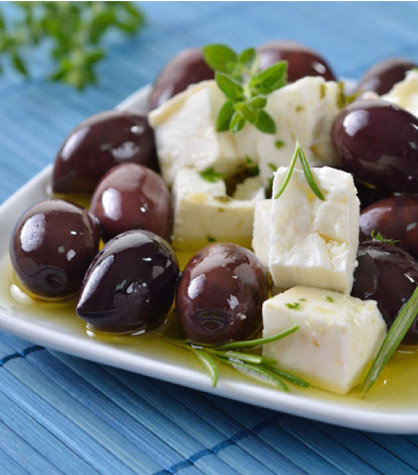 Marinated Feta & Olives
Prep: 10 minutes plus chilling
Serves: 12
1 medium lemon
1-1/3 cups pitted mixed olives (about 1/2 pound)
3/4 cup Essential Everyday® extra virgin olive oil
1 teaspoon whole peppercorns
1/4 teaspoon red pepper flakes
1 package (4 ounces) chunk-style feta cheese
1 pint-sized glass jar with lid
2 sprigs fresh thyme sprigs
1 small sprig fresh rosemary

1. Cut 1/2 x 2-1/2-inch slice of peel from half the lemon, then cut crosswise into 1/2-inch pieces; squeeze 1 tablespoon juice from lemon. In medium bowl, toss olives, 1/4 cup oil, peppercorns, pepper flakes and lemon juice and peel until combined; fold in cheese.

2. Spoon half the olive mixture into jar; nestle thyme and rosemary sprigs along inside wall of jar. Fill jar with remaining olive mixture; pour remaining 1/2 cup oil into jar.

3. Close jar with lid; refrigerate at least 2 days before serving to allow flavors to meld. Olive mixture will keep refrigerated up to 1 week. Let olive mixture stand at room temperature 15 minutes before serving. Makes about 2 cups.

Approximate nutritional values per serving:
82 Calories, 8g Fat (2g Saturated), 8mg Cholesterol,
215mg Sodium, 2g Carbohydrates, 1g Fiber, 2g Proteinapap

Chef Tip
Remaining oil mixture in jar can be puréed in a blender or food processor for an instant creamy salad dressing or flavorful pasta sauce.