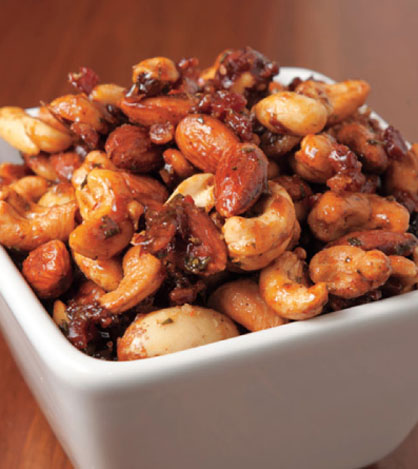 Maple-Bacon Spiced Nuts
Prep: 15 minutes plus cooling
Bake: 18 minutes • Makes: about 2 cups
1 large egg white
2 tablespoons Wild Harvest® maple syrup
1 can (8.75 ounces) Essential Everyday® deluxe mixed nuts (about 2 cups)
1 teaspoon dried thyme leaves
1/2 teaspoon garlic powder
1/2 teaspoon ground cumin
1/8 teaspoon ground cayenne pepper
4 slices bacon

1. Preheat oven to 300°. Line rimmed baking pan with nonstick foil or parchment paper. In medium bowl, whisk egg white until foamy. Stir in maple syrup, then stir in nuts. Add thyme, garlic powder, cumin and cayenne pepper; toss until nuts are thoroughly coated.

2. Spread nuts in single layer on prepared baking pan. Bake 18 to 20 minutes or until nuts are lightly toasted, stirring occasionally to break up any clumps. Cool nuts in baking pan on wire rack 3 minutes, then transfer nuts to large plate to cool completely.

3. Meanwhile, in large skillet, cook bacon over medium heat 8 to 10 minutes or until crisp, stirring occasionally. Transfer to paper towel-lined plate to drain.

4. When bacon is cool enough to handle, crumble bacon into medium bowl. Add nuts and toss to combine. Serve immediately.

Approximate nutritional values per serving (1/4 cup):
221 Calories, 18g Fat (3g Saturated), 3mg Cholesterol,
113mg Sodium, 10g Carbohydrates, 2g Fiber, 7g Protein