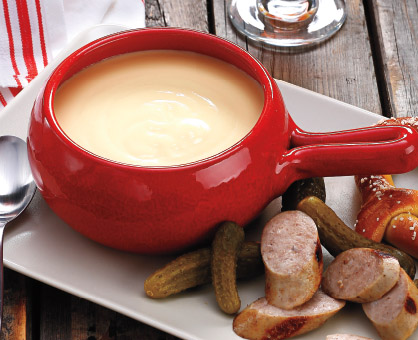 Beer-Cheese Fondue
Prep: 15 minutes
Cook: 40 minutes • Serves: 8
2 bottles (12 ounces each) Oktoberfest-style beer
2 tablespoons County Market apple cider vinegar
8 ounces Gruyère or Swiss cheese
6 ounces white Cheddar cheese
1 package (8 ounces) Dutch Farms® cream cheese, cut into small pieces and softened

1. In small saucepot, heat beer and vinegar to simmering over medium-low heat; simmer 25 to 30 minutes or until reduced to 1-1/2 cups.

2. With largest holes of box grater, shred Gruyère and Cheddar cheeses. You should have about 2 cups Gruyère and 1-1/2 cups Cheddar.

3. With whisk, gradually stir cream cheese into beer mixture; stir until well combined. Reduce heat to low. With wooden spoon, gradually stir in Gruyère and Cheddar cheeses until incorporated. To remove any lumps, in blender or with hand blender, blend mixture until smooth, or strain through fine-mesh strainer. Transfer fondue to serving crock or fondue pot to serve. Makes about 4 cups.

Approximate nutritional values per serving:
345 Calories, 24g Fat (15g Saturated), 84mg Cholesterol,
321mg Sodium, 6g Carbohydrates, 0g Fiber, 16g Protein