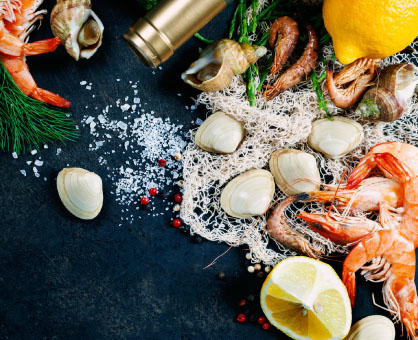 Fish… for the holidays? While fish may seem like a non-traditional holiday meal, the ritual of eating fish and seafood on Christmas Eve dates back to the birth of Jesus Christ. This honored Italian tradition, known as the Feast of the Seven Fishes or "Esta dei Sette Pesci" in Italian, originated with Catholics from the southern regions of Italy, such as Naples and Sicily. This tradition is also known as The Vigil (La Vigilia) that commemorates the wait, the Vigilia di Natale, for the midnight birth of the baby Jesus.
During the fasting period on Christmas Eve day, Italians refrained from eating meat and dairy products. Instead, they indulged in seven different fish or seafood dishes, which may have included baccala (dried, salted cod), crab, calamari, clams, lobster, oysters, pupa (octopus), scallops or shrimp. The fast ended when Holy Communion was received at Midnight Mass on Christmas Eve.
Why seven you might ask? Some believe it has to do with the seven sacraments or even that the world was created in seven days. The number of courses can vary. Some families do seven for the sacraments. Some do ten for the Stations of the Cross. And some even do 13 for the 12 apostles plus Jesus. Regardless of the symbolism, the observance of Christmas Eve dinner, or "Cena della Vigilia," is all about family, the spirit of the holiday and seafood.
If you're planning on cooking the feast for the first time, there are a few guidelines to keep in mind. Keep the first course light. There are many more dishes to go. Try something simple like salted cod or salmon spread on toasted bread. A cold seafood salad for the second course is an ideal way to move into the more substantial courses. For the main course, try grilled, fried, or boiled finfish and shellfish. Be sure to have seafood pasta and stew courses as well.