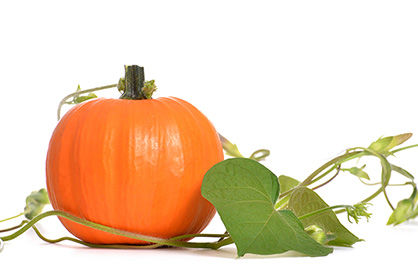 Pumpkins are steeped in history and legend, capturing the imagination of great writers, storytellers and artists. Pumpkins are members of the gourd family. The name comes from the Greek word "pepon" which means "large melon."
Although native to North America, pumpkins are grown all over the world. In the United States, about 1.5 billion pounds are grown each year, primarily in Illinois, California, Ohio, Pennsylvania, New York and Michigan. There are several varieties of pumpkins, ranging in size from very small to super gargantuan. In fact, the largest pumpkin ever recorded weighed in at a whopping 1,810 pounds! Most of the pumpkins grown in the U.S. are processed into canned pumpkin and pumpkin pie mix.
Early Native Americans used pumpkins for food as well as medicine in a variety of ways. The flesh was baked, dried, roasted, simmered, boiled and stewed. The shells were often dried and used for bowls, and the seeds were enjoyed as food or used for medicinal purposes. Culinary history suggests that pumpkins, along with other melons, fruits, nuts and fowl were on the menu for the first Thanksgiving feast, a three-day celebration, in 1621.
Pumpkins, like carrots, winter squash and other orange-colored fruits and vegetables, get their color from beta-carotene, a red-orange pigment well known and researched for its powerful antioxidant properties. Scientists believe beta-carotene can help protect cells from early aging and damage, providing added protection against cancer and heart disease. Pumpkins provide fiber, vitamin C and minerals, as well as great taste and versatility for your fall and winter menus. Delicious in soups, casseroles, oven-roasted or in a pie, the flesh is fat-free and low in calories, and the edible seeds contain protein, zinc, iron and healthy fats.
Planting pumpkins from late May through early July yields them ready for harvest from late September to early October. Purchase firm pumpkins with no browning or decaying soft spots. The skin should be tough and thick without wrinkles. Once purchased, be sure to keep pumpkins away from direct sunlight. If left outside, protect from frost by covering with a towel or blanket. If using for indoor decor, never place pumpkins on carpet or wood as they can soften and leak their inner juice. Set on cardboard or cloth directly on a countertop. Most varieties can be stored for up to three months.