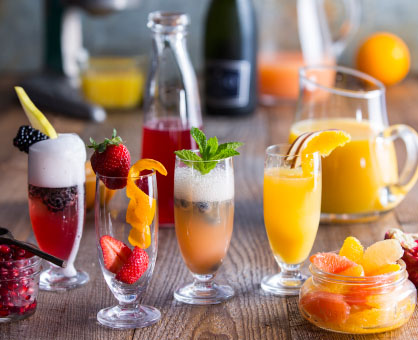 The perfect brunch accompaniment? A mimosa bar! Elevate this midday favorite drink with a variety of fun add-ons that allow your guests to build-their-own beverages. Set up a mimosa bar at your holiday brunch with a plethora of fresh fruit and garnishes for a fun start to your seasonal celebrations. Follow our simple guide for success:
Supplies
> Sparkling wine or Champagne
> Club soda for non-alcoholic drinks
> Ice and ice bucket to keep juices, club soda, and Champagne chilled
> Garnishes such as berries, mint, and citrus fruit segments/wedges
> A variety of fruit juices
> Glasses, preferably Champagne glasses
Set-up
> Decorate your bar or table
> Chop garnishes and place in serving dishes or jars
> Add ice to ice buckets
> Place juice, serving glasses, garnishes, ice buckets, and sparkling wine on the bar or table
Mimosa Combination Ideas
Be sure to add Champagne (or club soda for non-alcoholic drinks) to each of these combination ideas, pictured.
1) Cranberry Juice, Blackberries, Anjou Pear Slice Garnish
2) Pomegranate Juice, Sliced Strawberries, Orange Peel Twist
3) Grapefruit Juice, Blueberries, Mint
4) Orange Juice, Orange Segments, Red Pear Slice Garnish, Orange Wedge Garnish
Final Touches
> Sugar for the rims of glasses
> Striped straws
> Labels to identify your juices
Bonus Tip
Go to youtube.com/user/CelebrateFood for a video on how to segment citrus fruits.