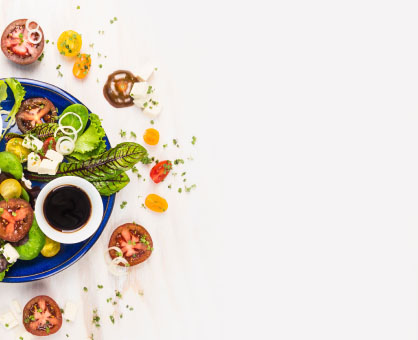 When it comes to dressing a salad there are two basic types. Creamy dressings including ranch, blue cheese and Caesar, or vinaigrettes styles such as balsamic, Italian and Greek.
Making salad dressing from scratch is nearly as fast and easy as shaking up a bottle, and the taste is phenomenally better than some gourmet brands. Most dressings are based on simple ratios.
Creamy, Cool
The basic formula for making a creamy dressing is one part mayonnaise to two parts buttermilk, with a dash of salt and pepper. Add other items to taste such as garlic, blue cheese and fresh herbs. Yogurt, sour cream or crème fraîche can be used in place of the buttermilk and even a portion of the mayonnaise for a less caloric option. For a thicker mixture to be used as a dip, mix equal parts sour cream and mayonnaise.
V is for Vinaigrette
The standard ratio for vinaigrettes is three parts oil to one part vinegar, but it's a flexible ratio, so use more vinegar for a tart dressing or more oil to make it richer. Other ingredients can be added such as a dollop of Dijon mustard, minced shallots, or a tablespoon of chopped fresh herbs. To make it sweeter, whisk in a little brown sugar or honey.
In a Pinch?
The quickest way to dress a salad, and one of the tastiest, is to sprinkle the greens with your favorite vinegar, drizzle with olive oil and toss with salt and pepper. No need to remember ratios.
Here are recipes for both a creamy and vinaigrette style dressing
Balsamic-Thyme Vinaigrette
In a small bowl, combine 1/4 cup balsamic vinegar, 1/4 cup water, 1 teaspoon minced shallot, 1 grated garlic clove, 1/2 teaspoon of salt and 2 teaspoons chopped fresh thyme. Add 1/2 cup extra virgin olive oil in a slow steady stream, whisking constantly.
Caesar Dressing
Whisk together 2 tablespoons Dijon
mustard, 1 grated garlic clove, 3 tablespoons lemon juice, 1 tablespoon red wine and 1/2 teaspoon Worcestershire. Slowly whisk in 1/2 cup extra virgin olive oil until emulsified. Stir in 1-1/2 tablespoons grated Parmesan cheese.