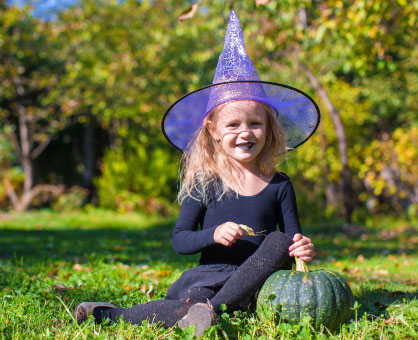 Halloween can be ghoulish for people on a diabetic meal plan. With the help of this spooky treat guide, it's fun to make and enjoy gluten-free, low-carb, low-sugar treats.
Apple Bites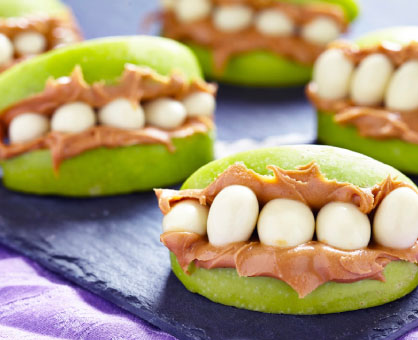 Quarter and core an apple, cut a wedge from the skin side of each quarter, spread with peanut butter, then press slivered almonds in place for teeth. Baste the apples with orange juice to keep them from browning. Use sunflower or pumpkin seeds and sunflower seed butter for a nut-free option.
Finger Food
With a paring knife, cut a flat, shallow notch in the tip of a baby carrot. Then use a dab of softened cream cheese* to "glue" a sliced-almond "fingernail" atop each notch. Cut in a few more notches to shape a knuckle. Serve with your favorite vegetable dip. Use this same cutting technique with a piece of string cheese.
Spooky Spider Deviled Eggs
Use black or green olives to create spider toppers for deviled eggs. First cut a whole olive in half lengthwise. Then put one half on top of the deviled egg for the spider's body. Thinly slice the other half of the olive for the spider's legs. Put four legs on each side. Alternatively, place these olive spiders atop a carrot slice smeared with cream cheese*.
Orange Jack-o´-lanterns
Use Mandarins, clementines or oranges. Draw a face with a black permanent marker (it won't penetrate the skin so the fruit won't be contaminated). It's fun for children to see how scary or funny they can make the faces.
Spooky Cheese Slices
Cut slices of Swiss, Cheddar, or colby cheese into spooky shapes using Halloween cookie cutters.
Banana Ghosts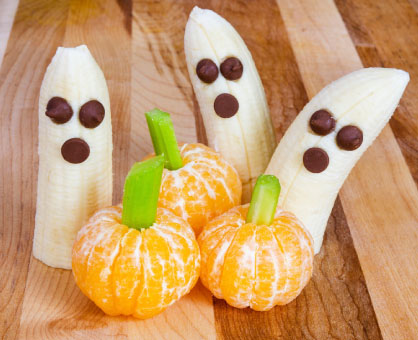 Press three chocolate chips* (two for the eyes, one for the mouth) into half of a peeled banana so that they resemble a ghost face.
Popcorn Witch Hand
Place something in each finger of a non-latex glove that resembles nails (raisins, candy corn*, almonds), fill glove with popcorn, tie off the end, and accessorize with a plastic spider ring.
Monster Eyes
Slice a big carrot into coins; smear one side of each slice with cream cheese*. Place a green olive with pimento slice in the center. Alternatively, make Monster Deviled Egg Eyes by placing a green olive with pimento slice on the center of the yolk of a deviled egg.
* Check package ingredient list as some brands may contain gluten.